I posted (
http://unofficialwarmoth.com/index.php?topic=24807.msg359089#msg359089
) several months back asking for advice on attempting to build a replica of Alex Lifeson's white Hentor Sportscaster, a modified strat he used on the
Grace Under Pressure
album and tour.  I saw that Alex's luthier got his permission to build and sell replicas based on the original's specs, however these were going for prices a tad over my horizon (~$3.3k).  So I ventured to build one myself. (Fortunately, the specs were listed in pretty good detail on the luthier's site. The rest I was able to scrounge up by creeping after him on forums and browsing his Photobucket pics.) I was able to build it for around $1,200 without cutting corners on hardware.
All in all, I'm extremely pleased with how it turned out.  This was my first build.  I couldn't be happier with the quality of the Warmoth body and neck.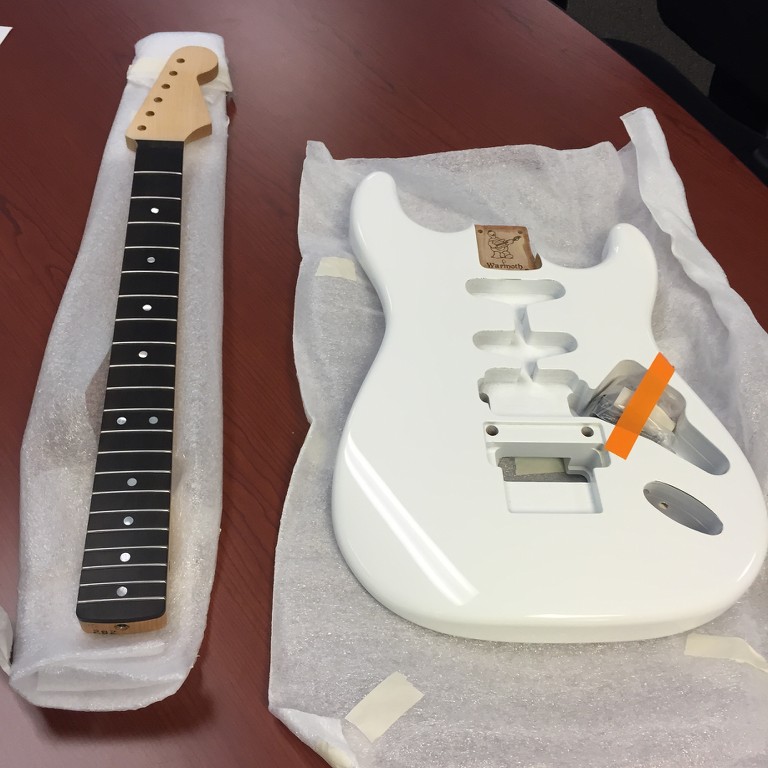 The biggest challenge on this build is the Gibson-style 3-way switch routed into the lower cutaway.  Fortunately, I have access to AutoCAD, so I could take measurements and design a fairly accurate route path.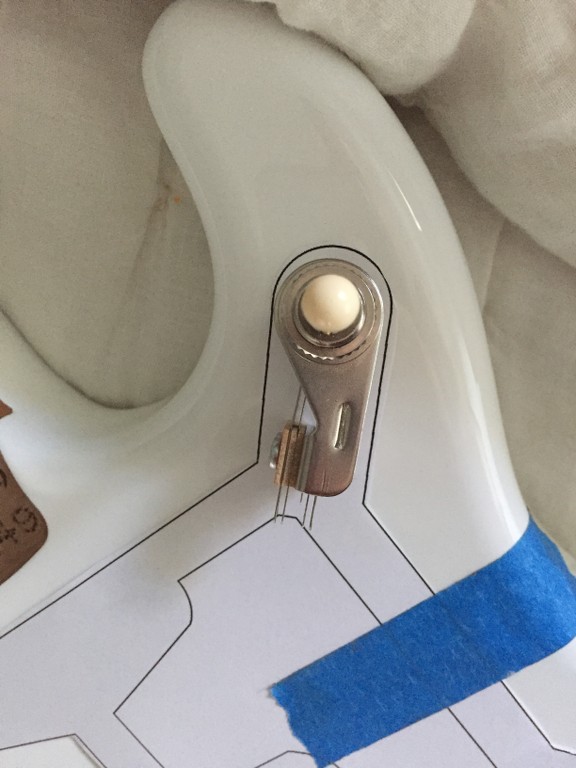 I didn't pay enough attention to my schematics and had to order a switch with more poles.  This selector switches Neck, Neck/Middle, Bridge.
Lucky for me, I have a good friend who has, of all things, a $6k laser engraver sitting in his garage. So, he ran a router template for me on plexi from my AutoCAD file.
So with no small amount of trepidation, I took to preparing to route the switch pocket. This involved copious amounts of blue tape and several practice runs on blanks with a brand new blade.
The results were satisfactory. Alder smells great when it's cut.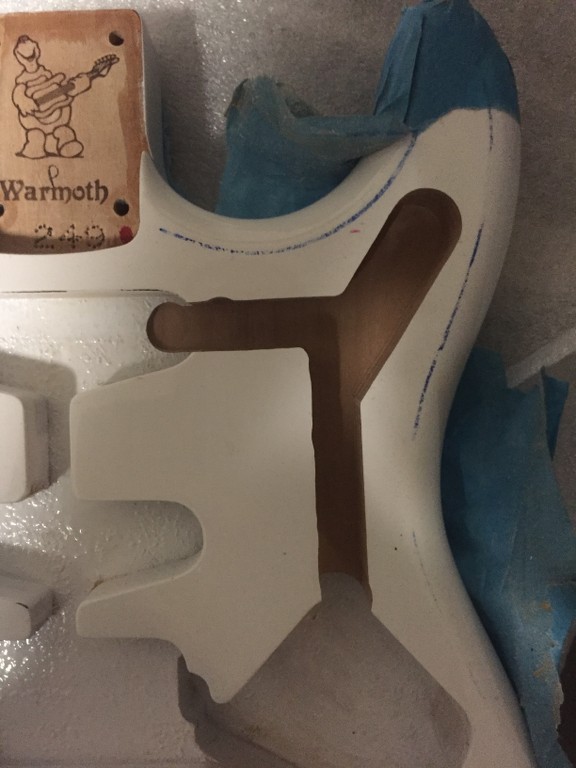 Then I took to overdoing it with the shielding. In the end, I thought it looked really cool though.  I did have to line the actual switch recess with non-conductive tape. The pocket was tight enough that the switch would short to ground in one direction when I'd switch positions.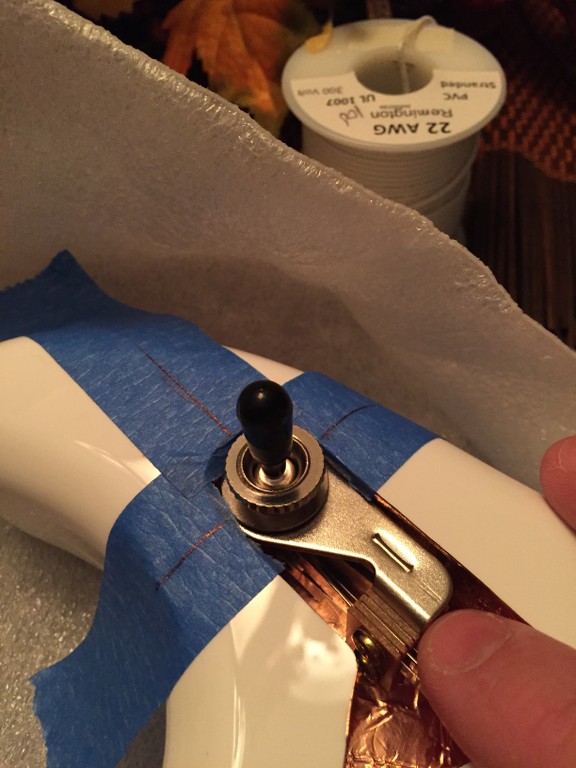 The build calls for a Bill Lawrence L500L HB in the bridge position. This was the original "Wilde" or "Bill & Becky" pickup, not the Bill Lawrence USA L500L. I was happy to learn that Bill's wife is still making these pickups by hand in Los Angeles.  I endeavored to order one.  Anyone who knows Wilde pickups knows that they don't stock much inventory.  I had to wait for it to be built.  I had to wait a long time, over two months.  But, it arrived and it was worth the wait!
The pickup on the left is the "Bill & Becky" L500L.  The one on the right is the Bill Lawrence USA L500L (which are easy acquired, but do sound different).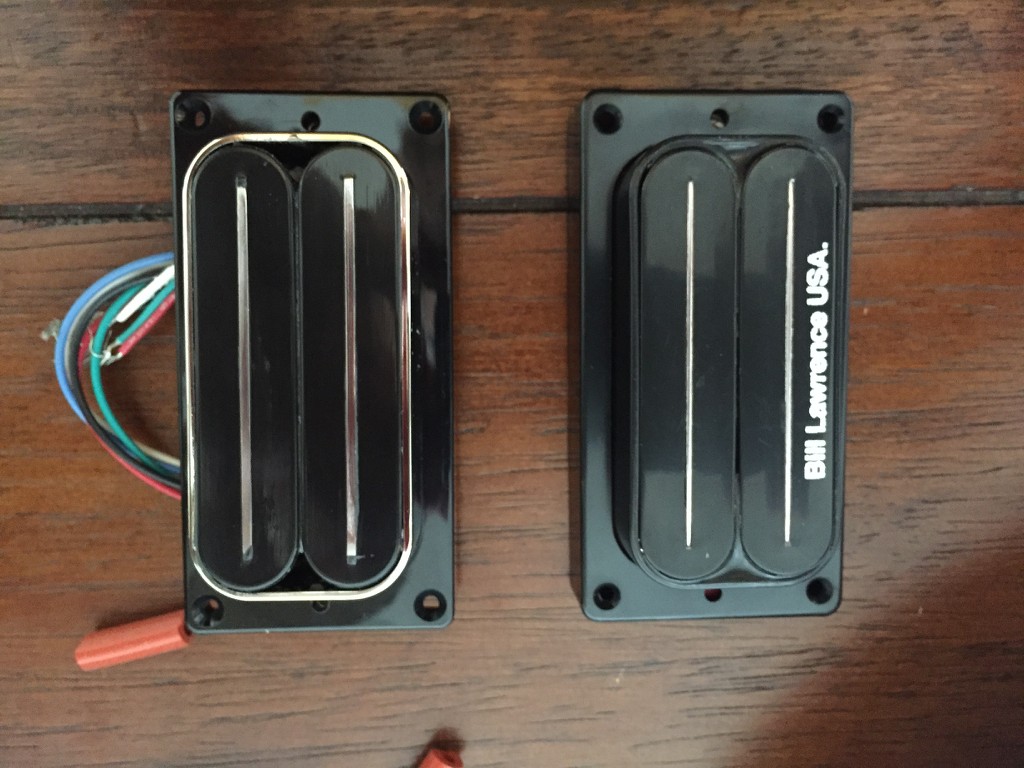 The L500L is a strange size, and Warmoth doesn't offer a stock cut for it, so I went with the closest size (which I think was the P90 route?) and addressed the small remaining gap by installing the pickup ring on the internal side of the pick guard.  Took a little dremel magic, but it finished up nice.
The two single coil pickups are DiMarzio FS-1s.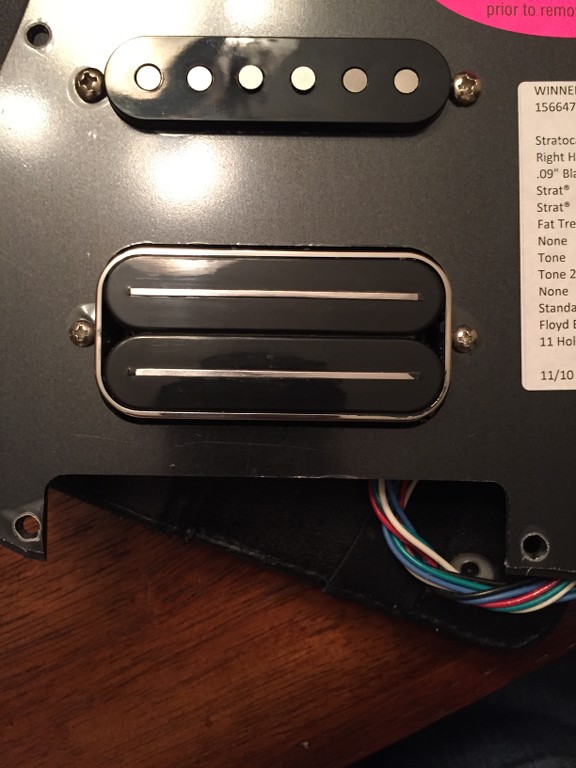 The factory locking nut cut is such a convenience.  This would have been such a pain to retrofit.
The P/G took me a little over an hour.  Well, it took me about 2.5 hours in all because there was some troubleshooting once the guitar was setup and played.  I read the schematic wrong and grounded half the hum bucker (whoops). Notice how the red and green wires are not grounded (like the blue and black), but simply twisted together?  :icon_thumright: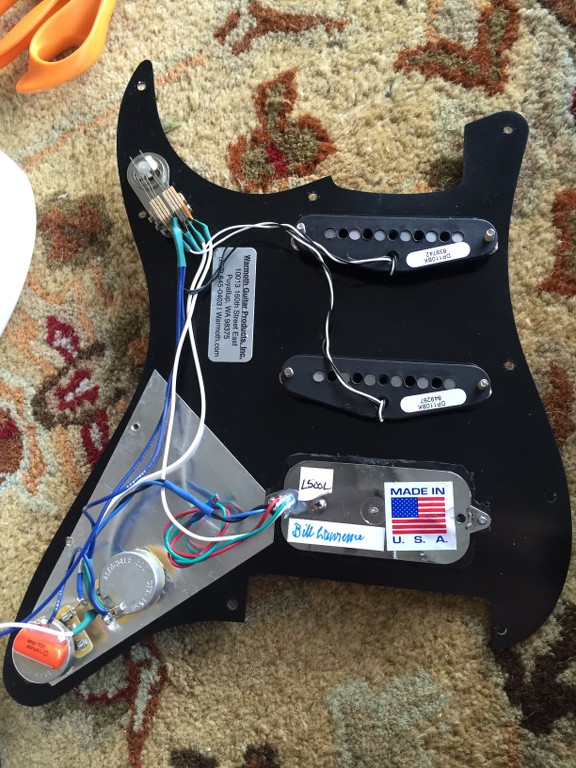 I found this schematic on a forum and snatched it.
An oddity of the original Hentor, the 1/4" jack plate is inverted.  I really like it, particularly with a right angle plug threaded through the strap.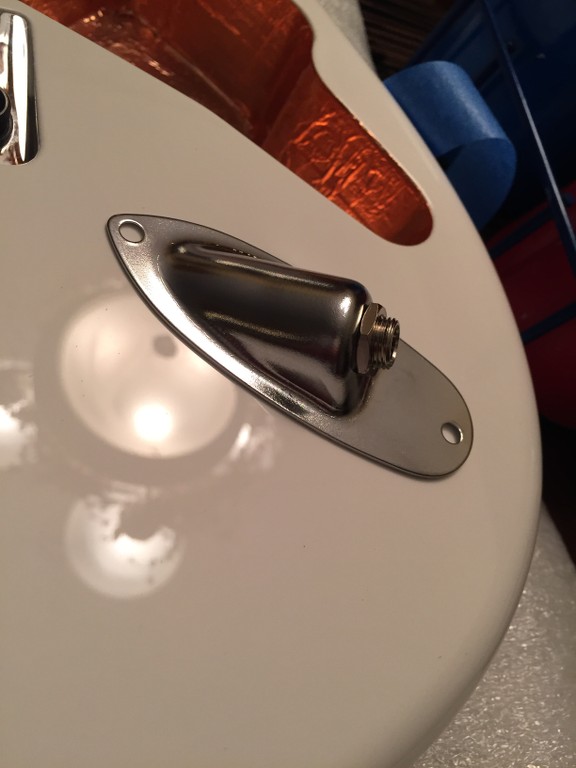 My buddy who helped me with the router guide is having a neck plate "lasered" with the classic Rush "Starman".  Haven't got that piece yet...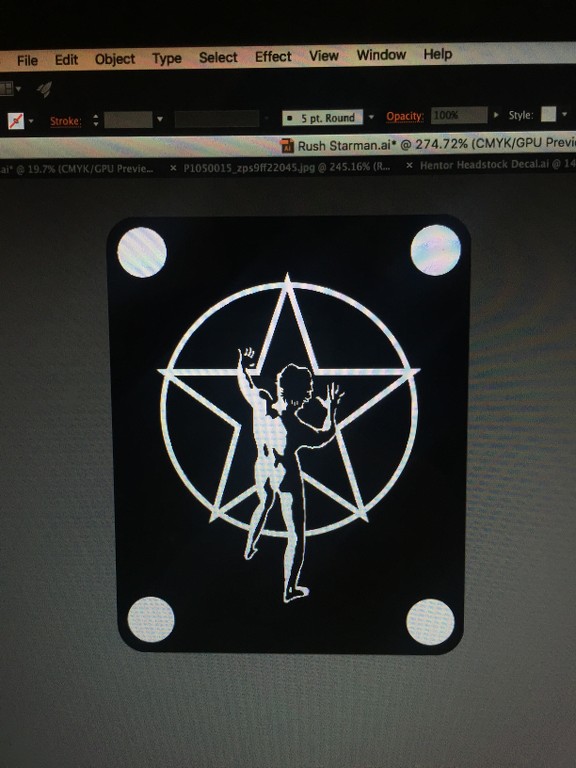 Well here you go. My finished Hentor Sportscaster. Plays like a dream. Sounds spot on!  That neck is glorious.  It's heavier than my PRS Custom 24, much thicker body.  Floyd tuning is solid.  Once I got the intonation spot on, I was in dive bomb heaven. lol. Still need to create a Hentor decal for the head.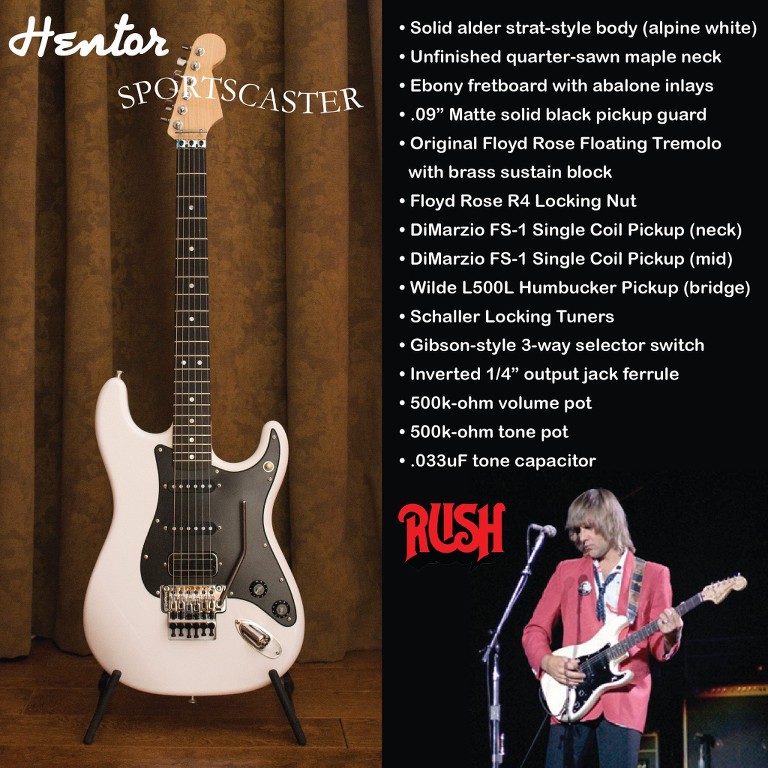 This project was so satisfying, I think I'm going to build a guitar every year. I was actually quite surprised that I could do it and that it would turn out so well. Again, the Warmoth parts are perfect. May try something a tad easier and less specific next time.