So progress has finally been made on the Black Cherry Burst Split Jazzmaster...
I really loved the Noventa Jazzmaster, but hated all of the available colors - so I set out to build my own. Here it was just out of the box:
First thing was to go ahead and drill the pilot holes for the pickups. I used blue painter tape to protect the finish and a plunge attachment on my drill.
Then I moved on to the shielding:
... and as much of the neck as I could do. Unfortunately I lack the tools to dress and groove the nut properly (and don't relish spending $200-$300 to get the full range and fouling up a couple of nuts before I get it right), so I'm leaving that to the Luthier at my favorite local guitar shop.
I'm using an actual Fender Noventa neck for this build as I loved the neck on the original... I just hated the body.
By and large I'm using the electronics from the Noventa as well - I only swapped out the 5-way switch for a 6-way switch and the stock jack for a Pure Tone Mono jack: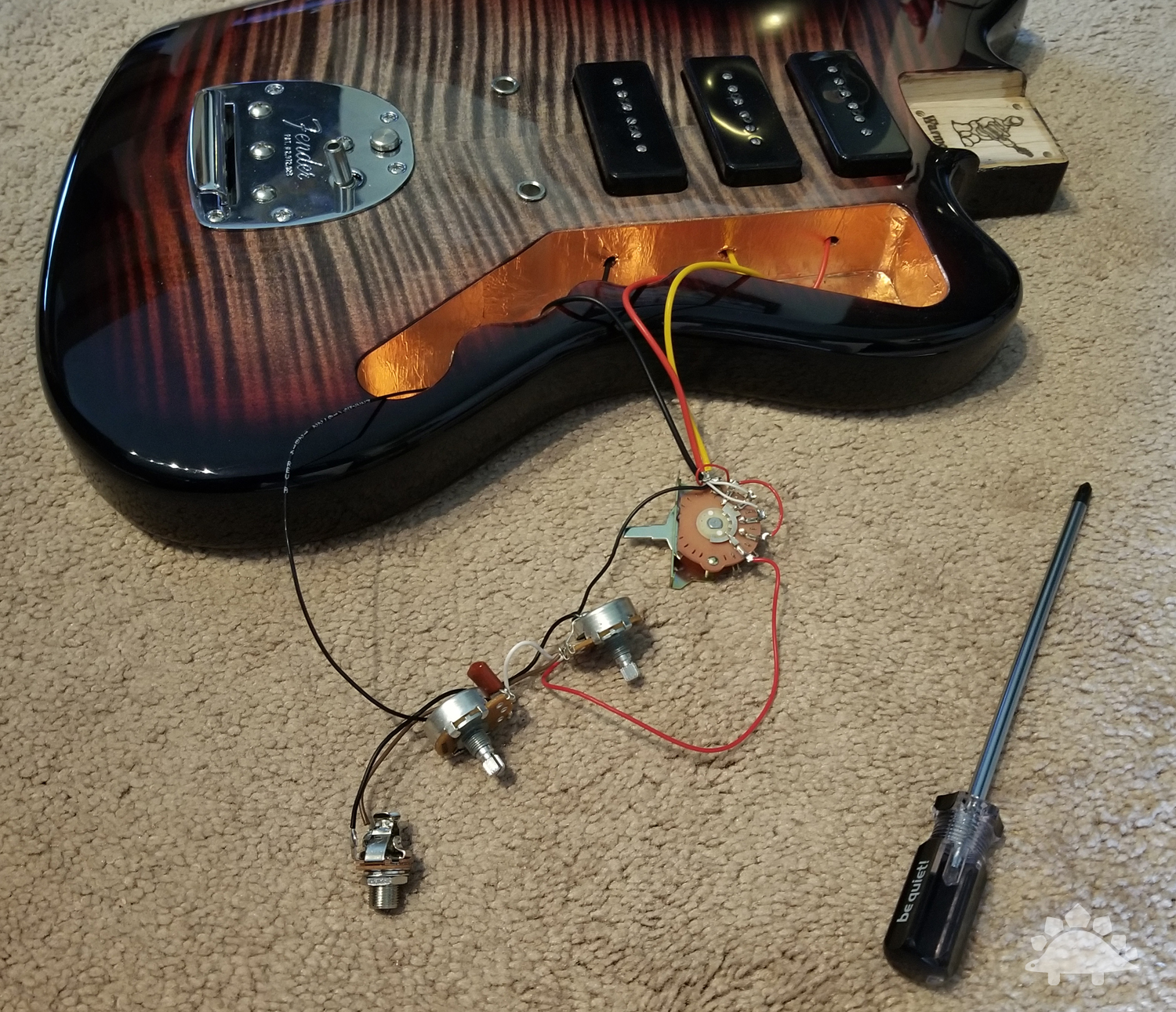 I'd initially gone with a Warmoth black split Jazzmaster pickguard, but there were two issues. First, I couldn't get a split pickguard with a blade switch standard, so I had to cut it myself. I did a serviceable job. It wasn't perfect, but with everything installed it would have looked fine. The bigger problem was that the black pickguard just didn't work with the rest of the guitar, so I needed something different. I ended up going with a carbon fiber guard from Halo Guitars:
This thing is beautiful, and it is real carbon fiber. So here is the build as it stands:

Part summary:
Body - Warmoth Split Jazzmaster
Neck - Fender Noventa Jazzmaster
Pickups / Electronics - Fender Noventa Jazzmaster
Switch - 6-way Oak Grigsby
Tuners - Grotoh Locking Tuners
Tremolo - Fender American Professional II (upgrade from the Noventa)
Bridge - Fender American Professional II (upgrade from the Noventa)
Pickguard - Halo Carbon Fiber
Can't wait to get it back from the Luthier ready to play...
Full write up with all the sub-steps, more pictures, and more verbosity at the blog:
https://steggostudios.blogspot.com/2022/05/noventa-jazzmaster-project.html
...