Tonar mentioned the other day about sitting down with a movie and some 2000 grit and making a maple neck shine. So, I decided to try that, only with an Aframosia neck. There was an appropriately campy movie on (
Eight-Legged Freaks
) that didn't require a great deal of attention, I had lotsa cold beer (as usual), a generous mittenful of various grades of abrasive... sounds like a party!
Yeah, I'm easily amused sometimes...
Anyway, I started off with some 600 grit. That made such an improvement in the feel of the neck that I almost stopped there. Seriously. If you've just been using your raw necks as delivered, you're missing out. Hard to believe, but they
can
feel dramatically better!
Movie starts off with a spider collector/research guy showing off his collection for one of the inevitable trailer trash kids. Unfortunately for the spider research guy, he gets bit by one of his little subjects and in the process of thrashing around his lab, knocks over most of the habitats and lets a lotta spiders run free. They kill his dumb ass (had to happen), and manage to escape the lab and find some toxic waste to frolic in (also had to happen).
From there, I went to some 1200 grit. Worked that for a while. Started to notice a bit of nice glow to the neck in the right light. Hmm... we may be onto something here...
The toxic waste makes the spiders grow huge (surprise!) and they start terrorizing the countryside eating cats, dogs, ostriches (!) and what-have-you (naturally). People start to notice things just ain't right.
Finished up with some 2000 grit, and the shine came on. Check this out...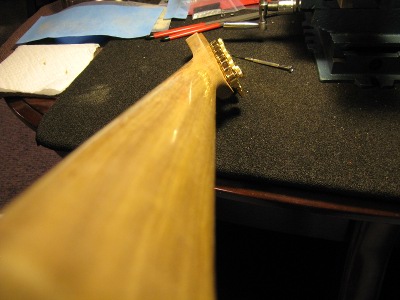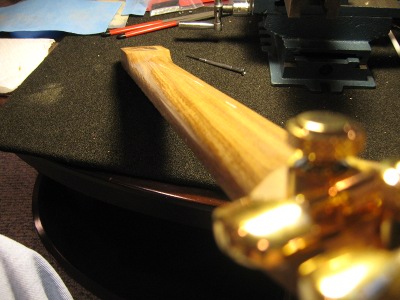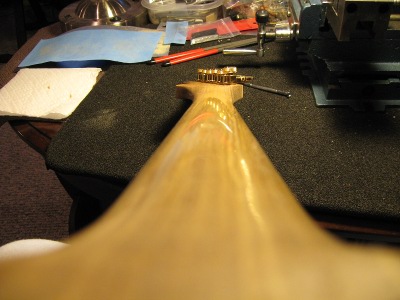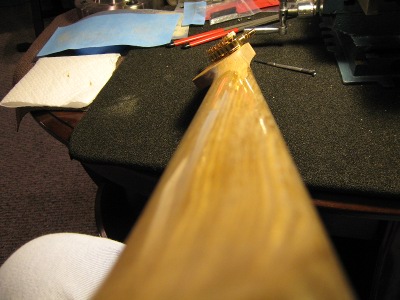 That's with no buffing, no polish, no oil, no nothing. Still just raw Afra. I thought my Ebony over Pau Ferro neck was the best neck I'd ever felt. Not anymore. This thing is the whip! It's almost magical. It's not sticky like a gloss finish - it just feels like the highest quality satin you've ever felt. Time very well spent.
Oh, and one of the crafty kids manages to lure all the spiders into an abandoned mine where he manages to find a methane leak, which works out well when it comes time to blow all the spiders to that great big web in the sky. The end.
I'm not going to tear apart any guitars just to do this, but as it gets to be time to change strings on a guitar with a raw neck, it's going to get this treatment. I've got raw Canary, Ziricote, Pau Ferro, Bubinga, Wenge, Rosewood and Bloodwood necks to try this on.
Edit:
I've since revised the sequence slightly to include some intermediate grits of paper. While adding steps sounds like it might increase the time it takes to do this, it actually improves it because you gradually remove the scratches left from the previous grit, rather than trying to get deeper scratches out with too fine a paper, which takes a long time. So, something like a 600-800-1000-1200-1500-2000 progression works better.