Ok, I've been working on a mostly non-warmoth build for the past few months and it's almost done.  The inspiration and cornerstone for this was a slab of Warmoth Mahogany.  I shaved-off about 1/4" and added a thin laminate of White Oak and a Walnut top I bought from ExoticWoods.com.  Cut it out with my Jazz bass template, did all the routing, contouring and shaping.  Sent that puppy off to Pat Wilkins for some of that super-nice clear coat.  Slapped an Allparts bound Jazz neck on it with a logo I made that says "Flounder" in the Fender script, a set of EMGs (35TW in the neck, 35CS, bridge), and a 3-band EMG preamp, Hipshot vintage bridge and tuners.  And here's what she looks like now: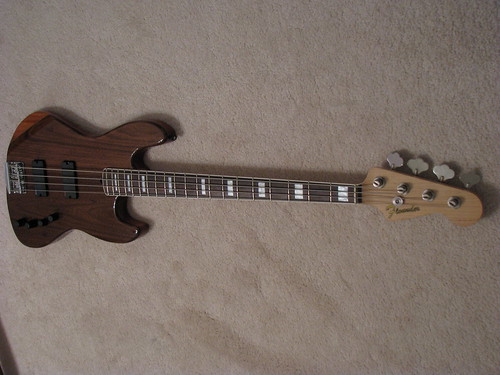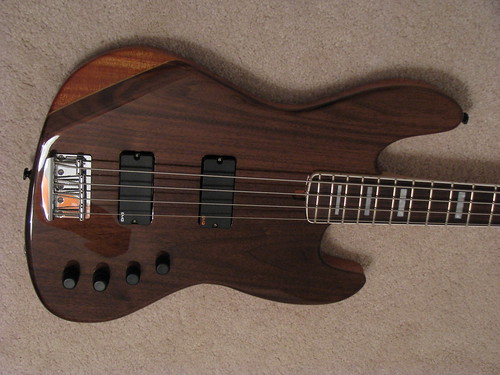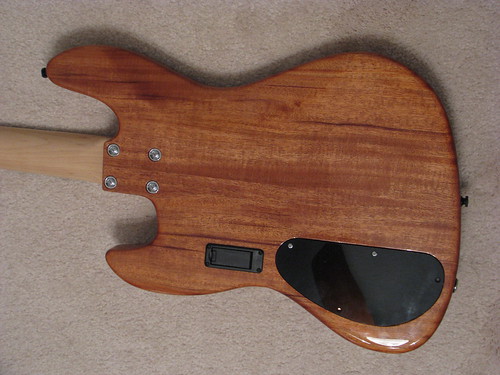 This bass sounds delicious.  Still have some work on the playability side.  I think I'm going to have to re-do the nut, maybe.
This is the first piece of wood to escape my new shop alive and I'm purty proud.  Sorry it's not a full Warmoth, fellas, but I thought you'd appreciate it.  And it does have Warmoth blood in it, after all.
Also: Special thanks to SkuttleFunk for his input on this project!!