First Time Build! Here are the plans so far. I'm asking a lot of questions in various sections of the forum, and will try and update this with links to the input I get. My goal is to
gather feedback
from this community and also
leave information for someone like me in the future.
Inspiration:
a guitar I saw a guy playing in a video (This is the Kit)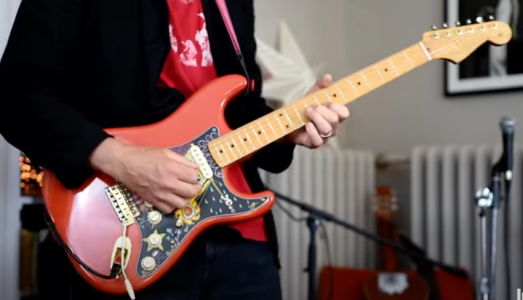 Me:
not really picky (ouch, bad pun), I'm the kind of player who picks up a guitar and either loves it or goes "meh" but I also put most challenges on me, not the instrument. I'm actually a bass player, but have played guitar longer, like for 45 years. I am a Fender guy, like rhythm and bluesy lead a' la Steve Cropper, but I'm a Jazz musician and I play standards, too, though not building this instrument for that.
Feel Model:
A mythical Strat Partscaster that my friend owns, likely Warmoth parts. We call it the "John Raymond Guitar" and John, if you see this, chime in!
Neck
Tele headstock/neck. Will be either roasted maple with ebony or all rosewood. No fret markers on fingerboard, just abalone side dots
Body
Fiesta Red Strat, getting a universal route
Pickups
Still working on this - I like the classic Tele neck pickup, both for sound and looks. Definitely want a high output humbucker (but in Strat form factor) in the bridge position. Middle pickup needs to add a lot of combination options to the other two. I'm
really lost here with pickups,
but seem to be homing in on Lace Sensor or Fender Noiseless - RF noise does really bug me. Even considered a Lollar Charlie Christian for neck, but it's very expensive and kind of blows the look, too.
Controls
Leaning to just one master volume, maybe volume and tone. The freeway 10 position switch intrigues me. I ordered one for me current Strat but may wait and install it on this new one.
Hardware
Hardtail. Simple, locking fender tuners, because they come in satin chrome. And to try and match that, I'm questing after a satin bridge, which is hard to find. I like the Fender American Hardtail or the Hipshot Stainless.
Build Plan Warmoth finished body, unfinished neck (supported by either rosewood or roasted maple), I'll do my own pick guard, as I have access to a laser cutter and I have some ideas about attaching it with neodym magnets to have no screws - if I perfect this, I'll share it out for sure. I can do the electronics. After I'm done, it'll go to my local luthier who happens to be Mike Lull (RIP, but his son carries on) for setup and Plek.
Thanks for reading, I'll keep y'all up to date. May be ordering in the next few weeks. Very open to feedback and advice.
John