While fitting a neck into the body I just received, the neck pocket was a bit too snug. I didn't force it and backed off, but apparently I did just enough to cause a very small finish crack on the treble side of the neck pocket, I think just in the clearcoat.
Crack is teeny, but don't want this to get bigger. Planning on putting a tiny drop of thin CA glue (specifically
Stew Mac 10/thin super glue
) to secure the crack.
Is it a reasonable plan for me to simply put in a drop or two of thin super glue and immediately wipe away the excess with a dry cloth or paper towel? Thinking enough glue will wick into the crack to keep it solid. Planning on using one of the little
"whip tips"
StewMac includes with the glue.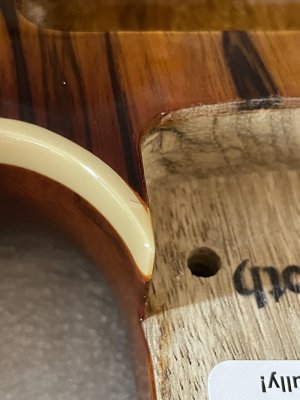 Anything else I should consider or watch out for here? No cosmetic concerns, other than I just don't want to make this look worse.
Not worried about the neck pocket being snug. I think I just need to knock back some finish/slightly enlarge the pocket with some light sanding. The neck I was fitting isn't the one I'm actually using for this build, so I think I'll wait to fit the actual neck I'm using before modifying the pocket at all, but either way I don't think it's way off.