Well Folks I spent some time shaking my head over this one, was better than crying at any rate. You may remember the BBQ Tele that I put together a little while back. Ended up selling it to an acquaintance of mine who plays in what, up until the Covid outbreak, is a fairly successful club band in Chicago. He and I made a deal that satisfied both of us and all was great. Was being the key word here.
Seems about a week ago he was taking a nap and awoke to all heck breaking loose. His wife, who comes from a well to do family and has an Executive position in a fairly large Corp. in the City, not to mention a heavy drinking problem, came home and decided to check his phone as she has trust issues. Well, the last txt.on his phone was from Susan, the wife's name is Mary, her reaction to this was to fly into a rage and grab the Telecaster which she then used to destroy a vintage Mesa Boogie amp. He got to the scene just as she took the last swing and passed out.
To make a long story short, He stopped off at my house on his way home from his Lawyer. Seems the Wife has a couple DUI's and has been in court more than once for drunk and disorderly. He's had enough. Anyway, He presented me with the remains of the Tele and told me I could do with it what I wanted, as his Lawyer informed him that she would have no problem getting him a settlement large enough to buy a new guitar, Amp, and a few other things. Ohh, and Susan, that's His Sister.
The neck is history, broken in two places with only the truss rod and the strings holding it together. But the body, while scarred badly on the front and less on the back is amazingly still in one piece, a testament to Warmoth's glue joints. The tuners are still okay and some how the bridge pickup survived but that's about it.
So I ran the body thru my planer and cleaned up the back without too much problem, but the front had to be taken down a good quarter inch to cleanup. Considering that and figuring that the poor thing had suffered undeservedly I decided to give it a new face. So I broke out my Limba stash and glued up a drop top for it.
.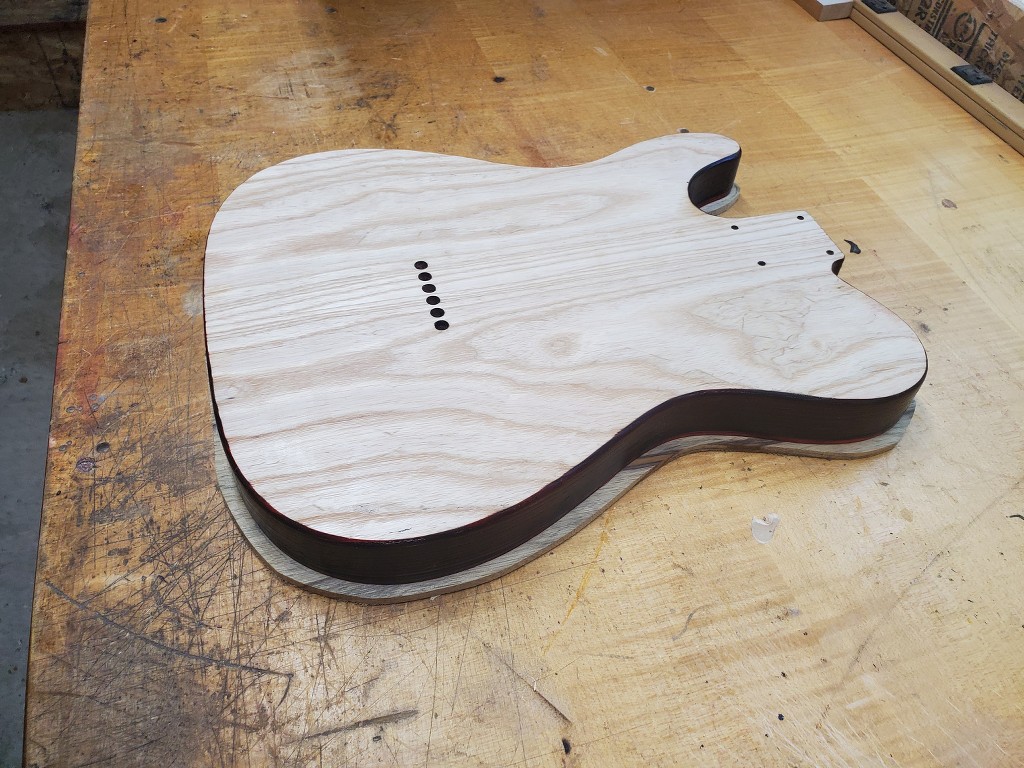 . This is still rough shape but with some Naptha on it to give an idea.  
  Shall see what happens as I go along. As I go through life, my hopes for the Human race go up and down............. :dontknow: