Well, it all started with browsing the showcase, as I do just about every night - and there it was, a beautiful flame maple capped, swamp ash chambered tele body.
It was love at first sight - for some reason they are pretty rare in the showcase and last time I saw one, it got snatched before I got around to buying it. Not this time - I told the wife about it, and being the incredible woman she is, promptly told me to order it as an extra late birthday gift.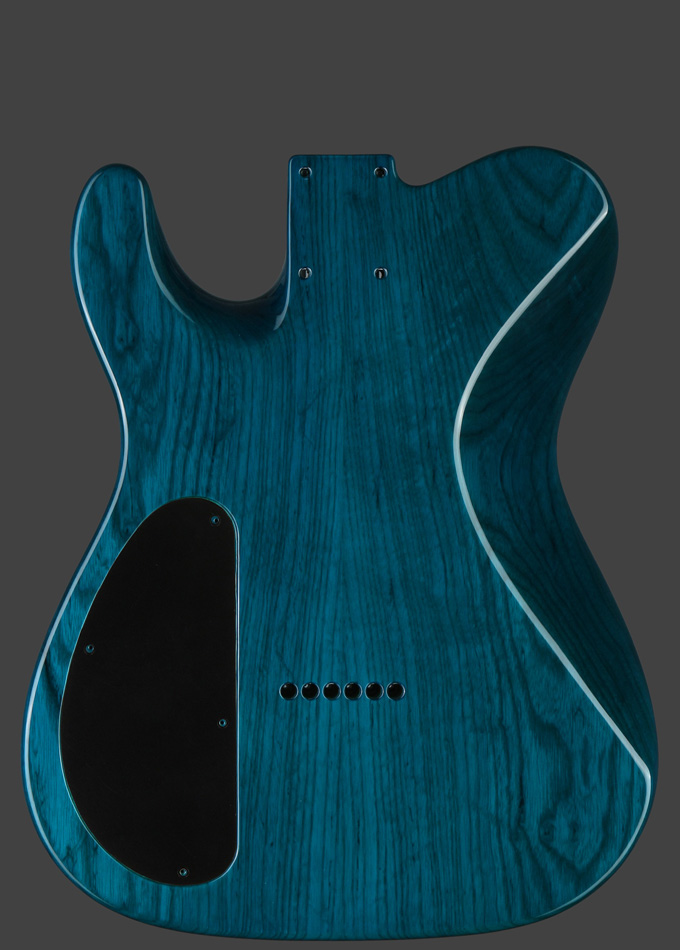 I (im)patiently waited a week for it to show up, while drawing up a sketch;

It arrived and it. was. beautiful:
I promptly bolted it together to try out the acoustic sound of the guitar - while Warmoth makes great parts, sometimes a piece of wood just isn't suitable for a guitar, but thankfully my fears groundless - it sounded GREAT - clear, punchy and defined. I was a bit nervous about the chambering, since Warmoth has changed their chambers since the last time I built a chambered guitar (around 2010), but again, nothing to worry about - just glorious, beautiful resonance.
I spent the next two weeks carefully routing out for a tele control plate (it just looks weird to me without it) and the GK pickup and input plug, and assembling it. However, an unforseen problem arose; being very light (3 pounds, 5 ounces/ 1,5 kg), the guitar was neck heavy - quite a lot, actually. I considered other tuners, but I really like Planet Waves auto trims, so I decided to try to put small weights in a plastic bag and put it on the back strap pin - it turned out that it needed about 150 grams of weight to balance. Not being especially crazy about having a plastic bag with nuts and bolts strapped to my guitar, I found some old lead weights, weighed off about 150 grams, and cast it into a small wood mold I'd improvised. I wrapped it in plastic, screwed this into the control cavity, and it worked out great - the guitar balances great now, and while it is a bit annoying to add extra weight to a guitar, this is still my lightest guitar, at 2.7 kgs.
It looks like this now: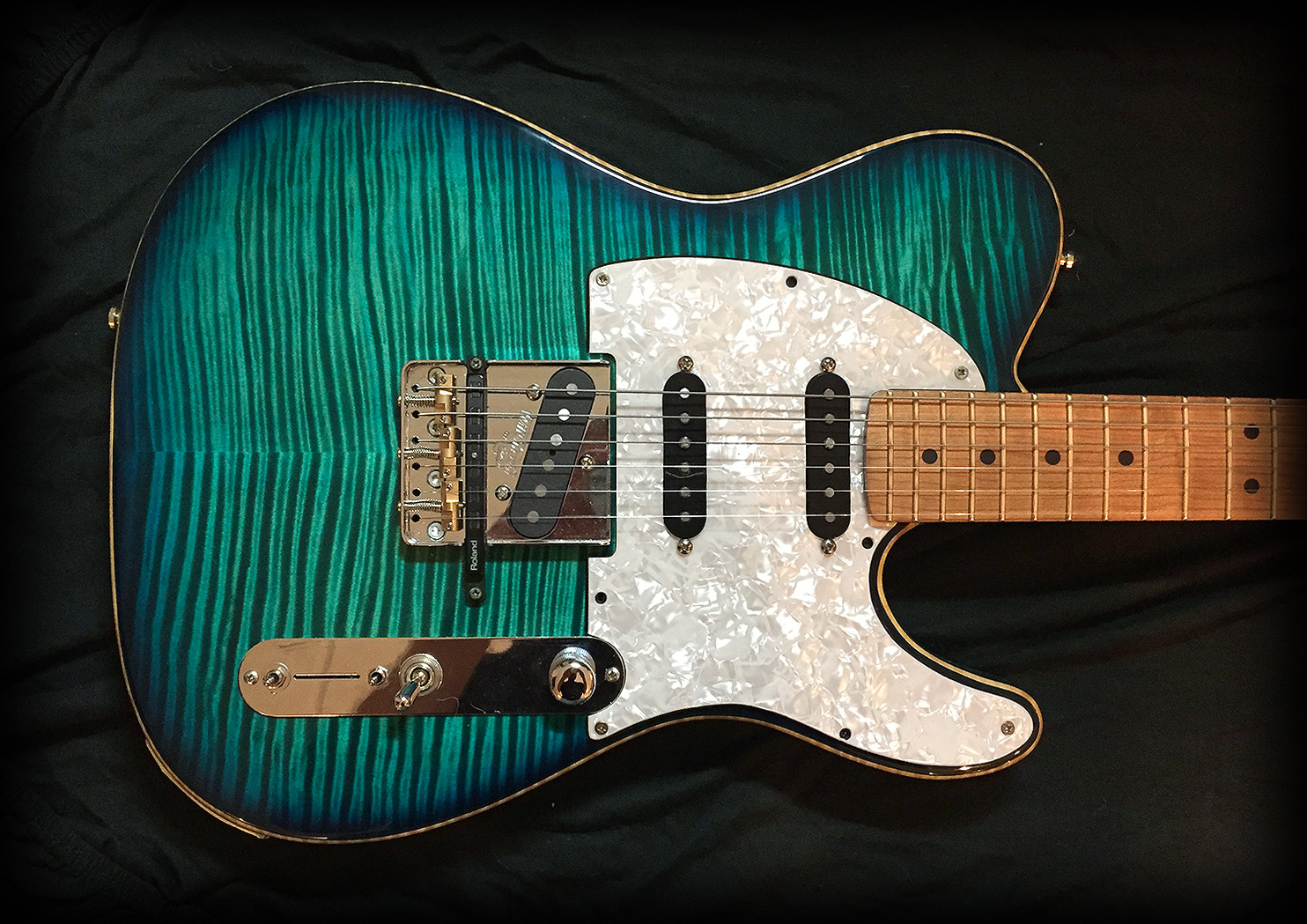 It is a great musical instrument - punchy, clear, light, and really sings - I absolutely love it. I used it for the first time on a gig this weekend, and I'm really digging it. The pickups, Dimarzio Areas (also new for me - I wanted a noiseless stage guitar) are great too - an Area Hot T for the bridge (very punchy and growly) and a set of Area 67s for the neck and middle (very clear and bell like) - highly recommended.
It is quickly becoming my go to guitar, even though I'm spoiled with having two other amazing Warmoth Teles - the white one with Suhr Fletcher Landaus and a Bare Knuckles Flat 50's and the Turquoise with a Dimarzio Area 58 and a Suhr Thornbucker+.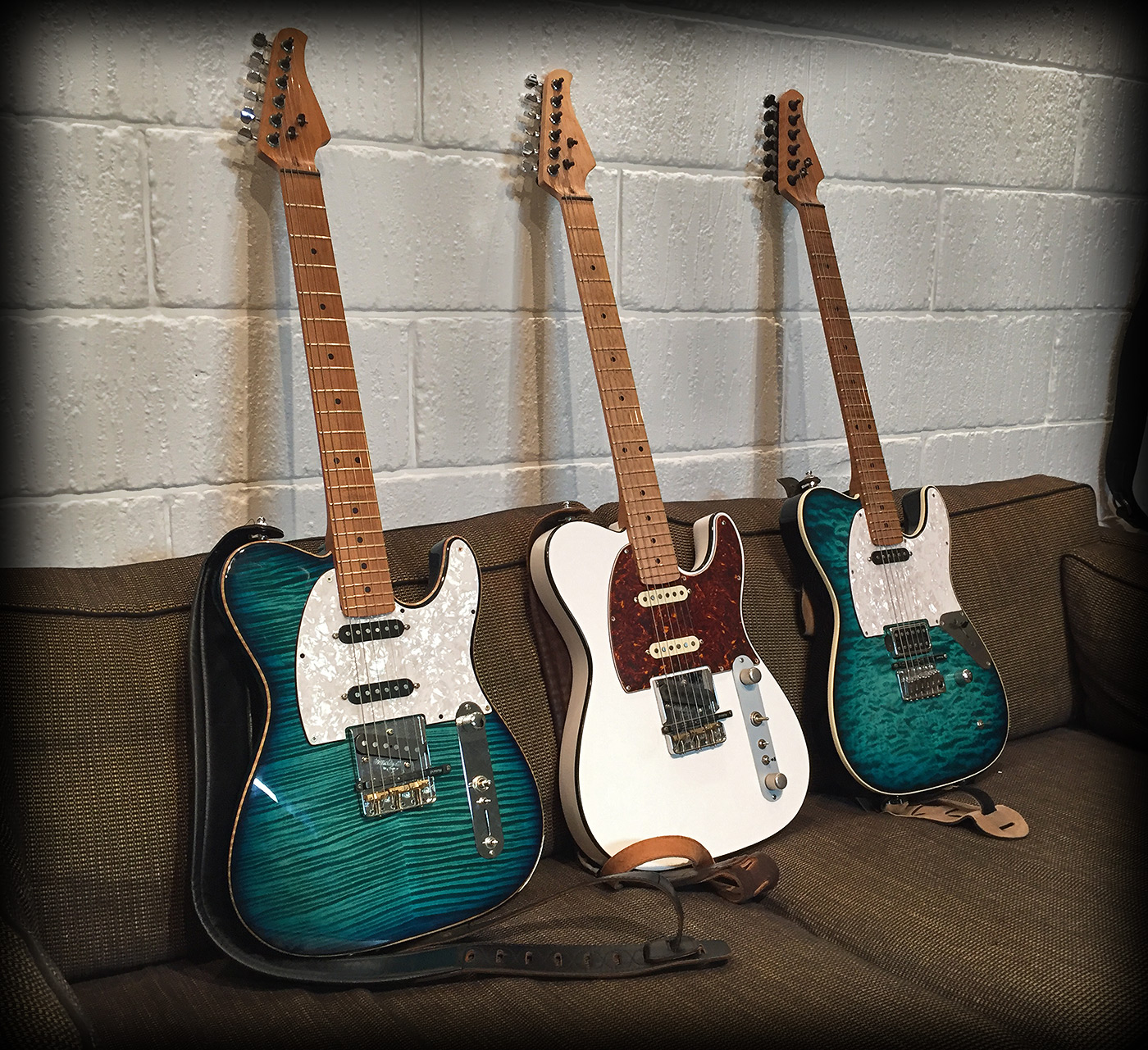 (the other pics show the colour of the Turquoise guitars better - for some reason they're a bit hard to photograph).
All in all, another homerun for Warmoth - the build went great and I absolutely love it. Only thing I have to complain about is the wiring channels for the neck and middle pickups - they're routed before the lam top is put on, and they have very sharp corners - I probably spent an hour trying to fish out the wires for the pickups - an infuriating experience, even for me as a former tech, being used to rewiring hollowbodies - please, Warmoth - you need to re-engineer those wiring channels.
Thanks for reading, and please comment!