I've used tube amps since I got serious about playing (around 20 years ago) and ever since I started browsing internet guitar forums I've wondered about the hype around NOS tubes. I once tested out several brands of new production preamp tubes in one of my amps and didn't notice a major difference between them, so for a long time I assumed that NOS would be the same. Last week however I went a little crazy and ordered a full set of NOS tubes to try out in the 5e3 Tweed Deluxe that a built a few months ago.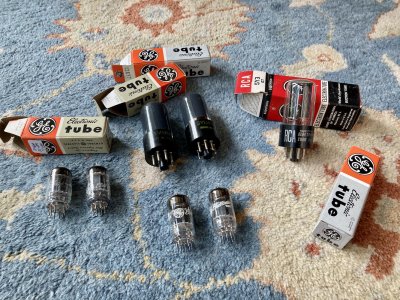 GE 12ay7 and 12ax7 preamp tubes , grey glass Sylvania 6v6 power tubes, and a RCA 5y3gt rectifier! All from Ebay, three different sellers who all specialize in tubes and had plenty of good ratings. Set me back around $170 for all of them.
I swapped out the JJ in my amp one section at a time:
-First just the preamp tubes. These made a very noticeable difference; brighter and clearer! Less stuffy or muffled sounding!
-Next the power tubes; maybe a little brighter, but it could have just been my ears getting used to the sound with the NOS preamp tubes.
-Finally the rectifier; I don't think that it changed the tone, but I could swear that it made the amp just slightly louder?
-Improvements all around! I jammed with the amp for an hour or so, and noticed that there seemed to be less idle hiss/hum as well!
Anyways, I guess I'm a believer now!