I'd like to have a pickup hidden under the pickguard I can activate for a secret "boost" effect. I'm thinking I would use a SSL-1 Strat bridge pickup for this in the middle position of a Telecaster. I would use a pickguard with just a strat neck pickup hole.
1. Is this viable?
2. Am I right that on the attached picture the following is correct,
"A" could be normal/from switch.
"B" could be output.
"C" could be normal + "boost"
Also could the other end of the "boost" pickup would be soldered to the sweeper lug of volume?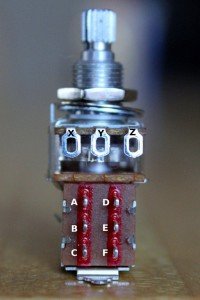 ~Heft