Hello. How. Are. You…
I'm the resident new guy here, though this is my 2nd time applying for membership. The first time, I was flagged by Admin (Aaron…?) for being a bot/scam/troll. 2nd time's a charm…?
I have been a long time member of one of the other gossip forums around, but at times it just becomes un-useful for me.
Anyhow, I am also semi-experienced with Warmoth products as I own two Jazz 5 Std necks, one fretted (roasted maple/roasted maple), one fretless (roasted maple/unlined ebony). Perhaps the best-feeling/playing necks I've experienced. Both necks are attached to Squier natural-finish maple bodies.
I have a full Warmoth build in the plans and I am very close to placing the order. This build would be a Stingray-inspired Deluxe Jazz 5, so more like a 5-string Flea Active Jazz.
I have collected all parts necessary from pickup all the way down to the strap buttons and string retainers over time. All I need to buy is the neck and body (and neck plate/screws) from Warmoth.
I'm planning an Ash body in either Tobacco Burst or Blue Burst (yeah big difference, I know) and either a Rosted Flame Maple neck/fretboard with cream dots or a Regular Roasted Maple neck/fretboard with Pearl Blocks.
I don't like the idea of blocks on flame…if I go with flame, I'd rather not have blocks take away valuable (beautiful) real estate.
I have found a couple of samples on-line that might represent these color combinations well enough, but I still can't decide.
This one is an actual Warmoth build I found in the old Showcase pages before the website revamp.
Tobacco Burst, Pearl blocks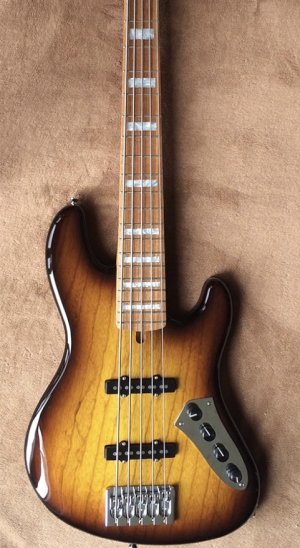 This one is a Sadowsky in their Bora Blue Burst - looks very similar to Warmoth's Blue Burst

I'm leaning more towards the Tobacco, it seems more "classy" to me.
With regard to the neck, I know that the amount of flame in any neck is sort of "you get what you get", no guarantees. I've seen some Warmoth flame maple necks with barely a whisp of flame, and some that look phenomenal. I don't know if I want to make that gamble.
Any insight from you Warmoth Veterans, or Aaron himself?
Last edited: