I bought a guitar with a Vortex neck on it. I was able to get the finished guitar with a Vortex neck, Diamondback body, and Duncans for $450, and this neck would cost $510 as spec'ed. It's bound in white. The scarf joint looks terrible. Had I bought this directly from Warmoth, I would try to return it.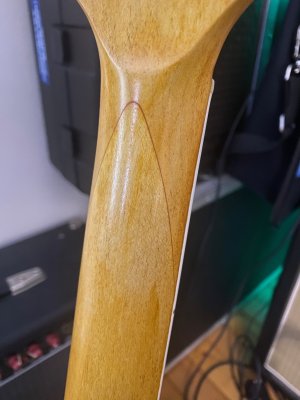 The transition between the neck and the binding isn't smooth. I can feel the line all the way up and down the neck. I don't know if this is considered acceptable for an unfinished neck or not. Since a maple neck requires a finish, I could imagine that Warmoth expects some sanding to be done anyway and so this would be resolved at that stage.
The neck came to the seller unfinished and he used Tru Oil on it. The finish is a little tacky for my preference. I don't know how the seller managed to mess up Tru Oil, but he figured it out. He also did something to stain a couple spots on the binding, which I think I can take off when I sand the neck.
I have never tried to fix the finish on an oiled neck, but I'd like to sand it down to refinish the back of the neck and to get rid of that rough transition to the binding. I'd mask it at the bottom of the back of the headstock to the nut. Should I start sanding with 600 grit? How far do I need to go down in order to ensure it's not tacky when I refinish it? Also, I'd rather use Tung Oil. Does that have a bearing on how far I need to sand down? My thought was whenever I get as far down as I need to be that I would sand to 800, apply some tung oil and let it cure for awhile, then sand lightly with 800 again; then apply another coat, allow to cure, and sand with 1000; and then apply a few coats and finish with #0000 steel wool.
I'd also like to try to lessen the visibility of the scarf joint. Any tips on how best to do that?