Starting my third build!
This time, I wanted a nitrocellulose gloss finish on the body, so I decided to finish the body myself.
Parts:
One piece rosewood neck from Warmoth (from my previous tele build)
PGK Tele body with 1 piece African mahogany body and high grade bookmatched quilt maple top (shown wet).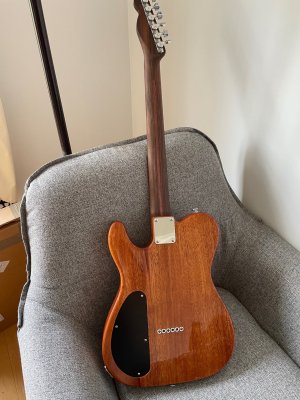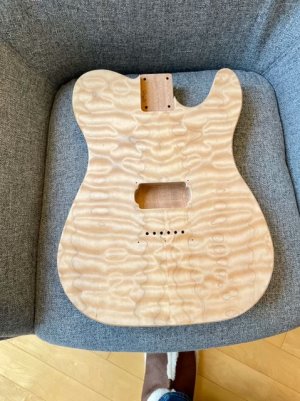 I only play guitar at night at home, so I figured I'd maximize the quilt top with a single bridge humbucker wired straight to the output jack, but I can always drill in knobs later if I find I need them (there is a small rear cavity). The rosewood neck is going to stay raw, and I'm planning to sand it down further to 2000 grit to get that nice smooth feel I achieved previously on my first strat build.
I've never finished a guitar before, but I'm going to attempt to make a pink+purple burst guitar with natural back, with this guitar as the inspiration: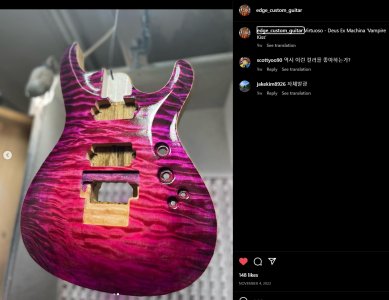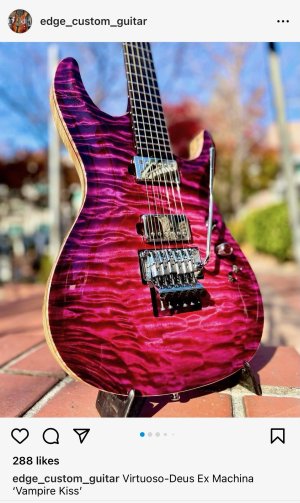 Looking for something straightforward, and taking feedback from forum members, I've started with Keda dyes (5 pack of the powder dyes you can find on Amazon). I've had decent success so far naively applying blue first and then red (which appears pink when not concentrated), but I'm still experimenting with colors and strategies.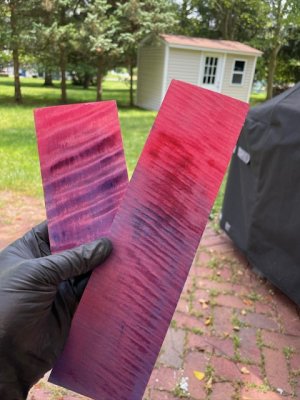 The application of gloss lacquer will add some more contrast and pop to the color and flame. I doubt I can get it that close to the inspiration above, but I think it'll be pretty lovely if I can reproduce these colors on the final build.
I've also sealed the back with Mahogany GoodFilla wood filler and sanded it back down to 320 grit. Show wet, and after half the body was sanded.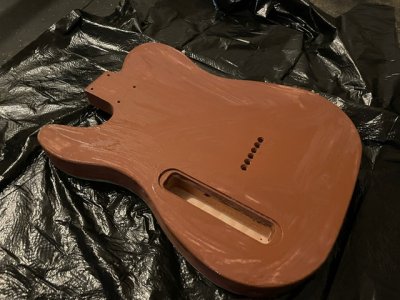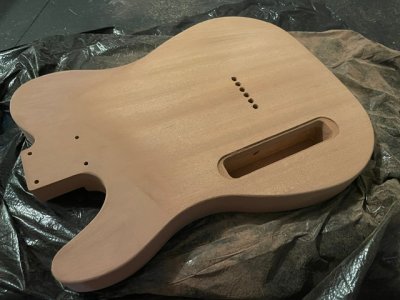 I've got all the protective gear and a little spray tent for the nitro lacquer. Without trying to start a debate on nitro v poly, I personally am seeking the nitro finish because, of the guitars that I've owned, I've just loved the feel and "softness" of the nitro finish. In contrast, I find my poly finished guitars to have a hard and brittle characteristic. After a fair bit of forum digging, I'm choosing Mohawk Ultra-flo Clear Lacquer (contains cellulose nitrate, just under $10/can). I've had the parts for alost a year and have been waiting for the summer days to get this spraying done outside before the cold sets in.
Looking forward to posting my finishing journey here and getting tips if you have any!