so the other day i was looking up wooden pickup rings for my new guitar. i love the look and the idea of pickup rings made of wood, and finally found my site.
anyway, so either because i'm very observant or because i'm some kind of ebay stalker i recognized a green LP that's been listed for several weeks, maybe months.
BUT the guitar on ebay has plastic rings and a plastic knob, and the guitar on www.pickuprings.com did not. am i crazy? can there be two guitars with almost the EXACT same top? i know laminated tops are thick, but i would think that after 3/4" or so the wood grain would be a little different. anyway, here are the pics. am i crazy?
from ebay:
from www.pickuprings.com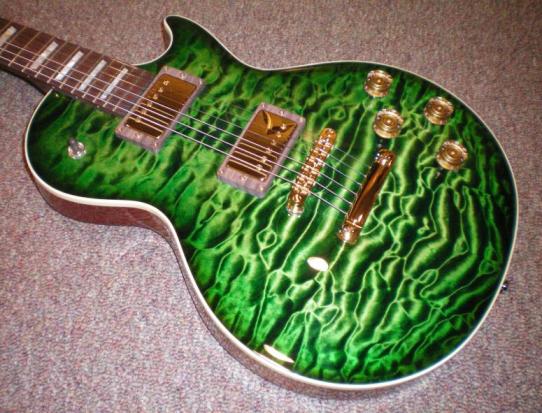 i messaged the guy on ebay, but he told me the rings have always been plastic. i want to send him a link to this guitar and call him a liar  :icon_biggrin: maybe he's not the original owner? or maybe he's pulled the hardware and put it on a different guitar and doesn't want me to know.