I finally got it to the way I like it. Inspired by a sunset in oz. It really is beautiful.
Weight: 7 Lbs 15.5 Oz. (Hollow Body)
Lower Bout: 13" (all measurements could be off by 1/4 inch, and are as close as I can tell, but they are more or less accurate)
Waist: 8 5/8"
Upper Bout: 11"
Body Length: 18.5"
Body depth, including a Gotoh Wrap around bridge: 2 7/8"
Body has a contoured heal
Total Guitar Length: 38"
Neck Pocket Angle: ~2 degrees
Tilt Back Headstock (Vortex) Angle: ~13 degrees
Hollow Carved Top VIP
Orientation: Right handed
Scale: 25-1/2"
Wood: Quilt Maple / Maple on Mahogany
UC Front Laminate: LT3378
Rout: Rear Rout
Pickup Rout: Humbucker (Neck), None (Middle), Humbucker (Brdg)
Controls: V-T-Tog (PRS)
Bridge: Gotoh Wraparound (Angled Pocket)
Jack Rout: 7/8" (22mm) Side Jack Hole
Neck Pocket: Strat® Shape
Mounting Holes: Standard 4 Bolt
Contours: Contoured Heel / Tummy Cut
F-Holes: None
Binding: Cream Binding
Top Finish: Tequila Sunrise Burst
Back Finish: Clear
Finish Type: Gloss Finish
Stud Install: Use inserts from bridge on order
Gotoh Wraparound Bridge (Chrome) G510C
Neck
Serial Number: CN53054
Style: Vortex
Construction: Modern Tiltback Construction
Scale: 25-1/2"
Orientation: Right Handed
Neck Wood: Indian Rosewood
Fingerboard Wood: Bloodwood
Nut Width: 1-3/4"
Back Shape: Wolfgang
Fret Size: SS6150 (Stainless)
Tuner Ream: Schaller (25/64")
Radius: 10-16" Compound
Fret #: 22
Mounting Holes: Standard 4 Bolt
Inlays: White Pearloid Diamond
Side Dots: Black Side Dots
Binding: Cream
String Nut: GraphTech White TUSQ XL - Standard Nut
Serial Number: CN5305
Neck Screws: S7 Neck Screw, Set of 2+2 for Contoured Heel, Stainless Steel
Mounting Ring: HBRSC1C Curved Short Humbucker Mounting Ring, Cream 2
Mounting Ring: HBRTC1C Curved Tall Humbucker Mounting Ring, Cream
Tuners: Hipshot Locking
Buttons: Pearloid Ninja
Custom Neck Plate
Truss Rod Cover by Thalia. I flipped it over, because when it was rightside up, with the pearl design, it curled up. Flipped over and it lays flat. The rosewood cover matches the rosewood headstock so it worked out.
Electronics
Pots: 500K Pot, By CTS 2
PUPS: Railhammers, Heavy 90 Bridge, Neuvo 90 Neck
tone control: .022 mfd cap
Treble Bleed on volume: I forget
Toggle: Freeway 6 position. Bank 1 ='s Neck, Neck and Bridge Parallel, Bridge. Bank 2 ='s Neck, Bridge and Neck in Series, Bridge. So only 4 different sounds, but they sound great. It had a fancier, more PRSy, switch set up before, but I missed the series option.
Hipshot V and T Gold Knobs
My case build thread (It was too hard to find a case that fit, so I adapted one)
I looked for a case that would fit my VIP, and wound up modifying one which worked out pretty good. Here's the saga. The first thing to note is the size and weight of the guitar. Weight: 7 Lbs 15.5 Oz. (Hollow Body) Lower Bout: 13" (all measurements could be off by 1/4 inch, and are as close...

unofficialwarmoth.com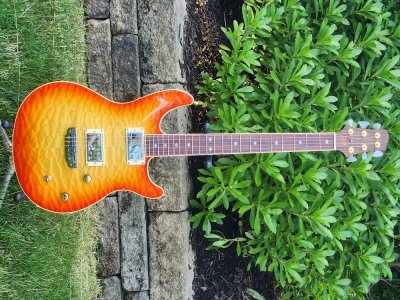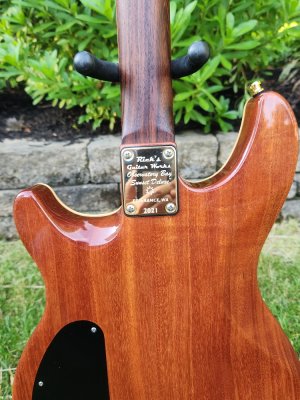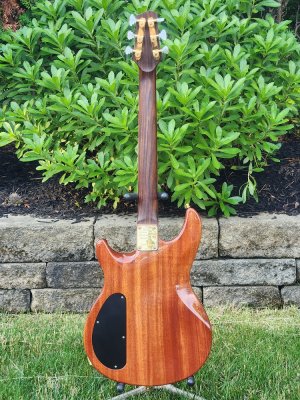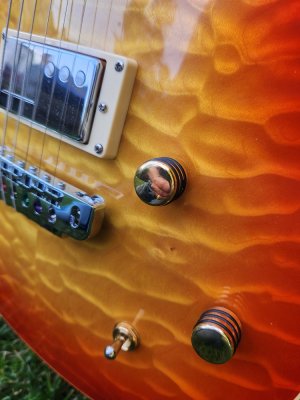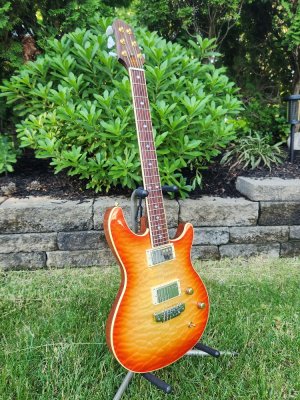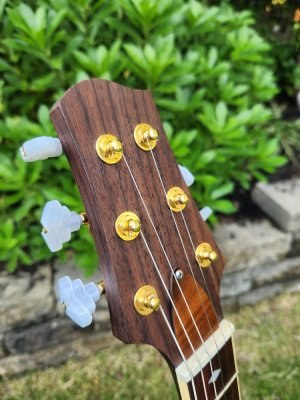 Last edited: