(Wasn't sure where to put this, so I thought I'd start here and move it if needed.)
My Wall-T is hardening up, and it'll be a couple more weeks before it's cured enough that I'll feel comfortable level-sanding and doing the final coats. In the meantime Ive had a request from my nephew, who is starting out learning to play, to build him a guitar. He doesn't care what it is so much as long as it's one of mine and it looks cool. Not having children of my own, I'm not really up on what's currently "cool".
I don't think it's a good idea to give him a whammy bar right off, just like it's not a good idea for beginning rider to start out on a large Harley or a crotch-rocket. He needs to learn the basics before launching into "Eruption" or Satriani.
Anyway, I've got this body sitting around that has only been taken to rough shape. And I thought "Why not open it up for the Forum to decide what it should be. So I'm looking for suggestions on how to proceed.
The idea is a simple 6 string solidbody that a 12yr old would find acceptable and won't give him troubles staying in tune or be too fragile. He likes country, heavey-metal, and whatever 12yr olds listen to nowadays.
This is what I've got so far. The main section is Leopard-Wood with Sapele and leopard for the top.
.
.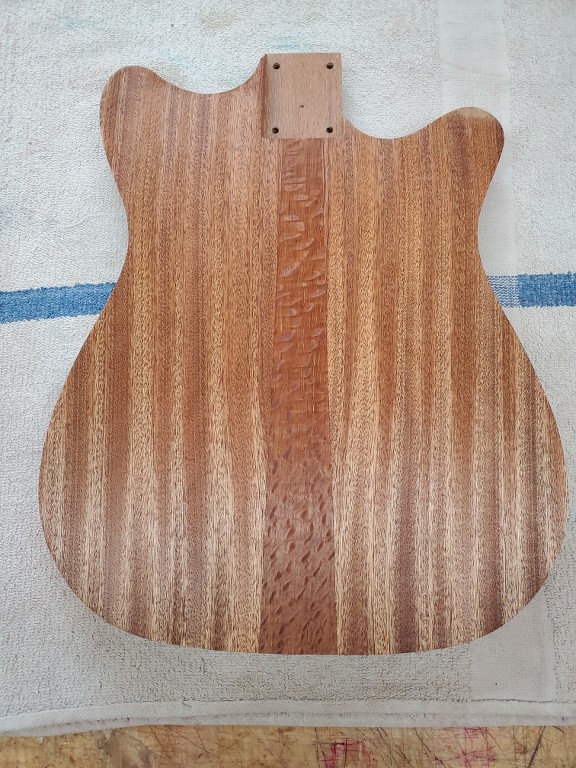 . So, what do you think? ......... :icon_scratch: