Hi guys,
here are some build in progress pictures about my new project. it will be a white korina stratocaster with a schaller licensed floyd that i plan to finish on my own. while the body gets finished with a wudtone finish with the aim to get a black to red burst (thanks
@stratamania
for the hint to this product). the strat will be loaded with the eric johnson single coil set with a 4 way switch and volume and one tone poti.
the maple neck will just get a tru oil and birchwood wax finish.
the first challenge was already successfull: i wanted to have a contoured heel but was not satisfied by the warmoth contoured heel. so i decided to design the contour myself with a 11mm ferrule construction. this is the only step where i seeked assistance from a luthier since i didnt have the tools to drill a sunken screw surface as i wanted it. luckily, this operation was successful. it is impressive how awesome the reach to the 22nd fret is now, that is way better than the standard contoured heel on my other warmoth guitars. next step is the finish which. hope i will not mess this step up completly, will keep you posted.
neck and body ootb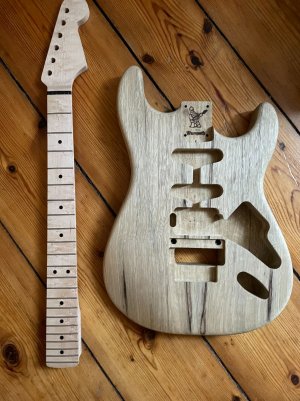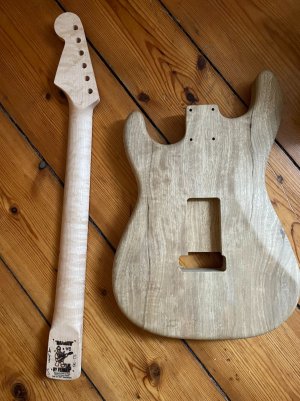 heel after the operation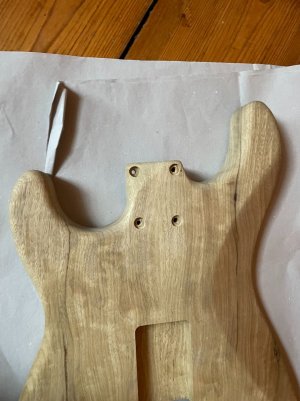 heel with the sunken ferrules and the cut off short screw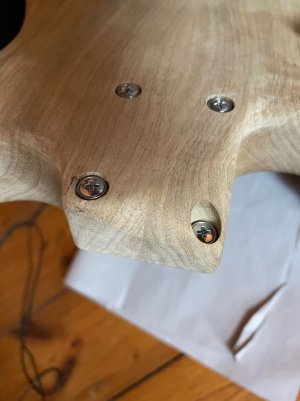 best
johnny