Started with a roasted swamp ash jazzmaster body and an unfinished quartersawn maple neck.
About 12 coats of Danish oil over the whole neck, then rounding the frets, then board edge rolling, then then taped everything off and two coats of wipe on poly on top.  A little light sanding of the edges and there's no transition that you can feel at all between the gloss and the oil.  Then just had to drill the holes for the string retainer and screw on the tuners.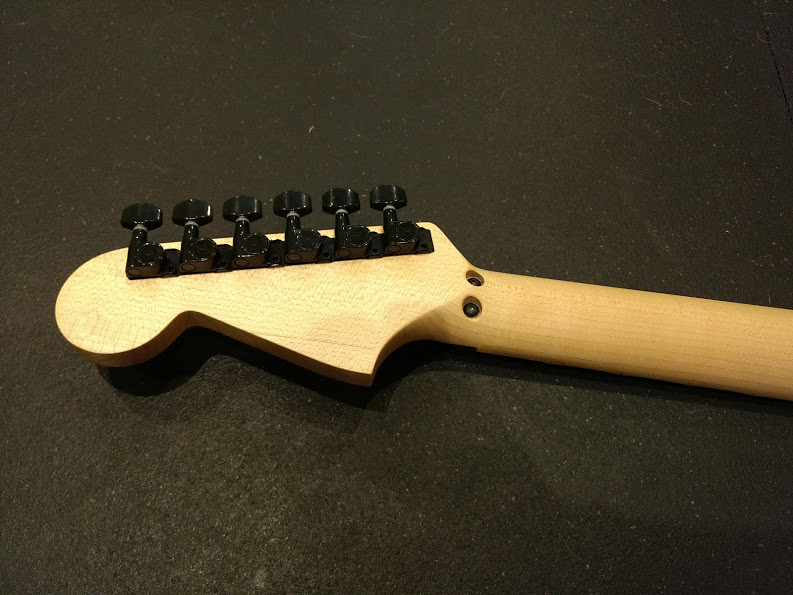 A whole bunch of grain filler later . . .
Primer on: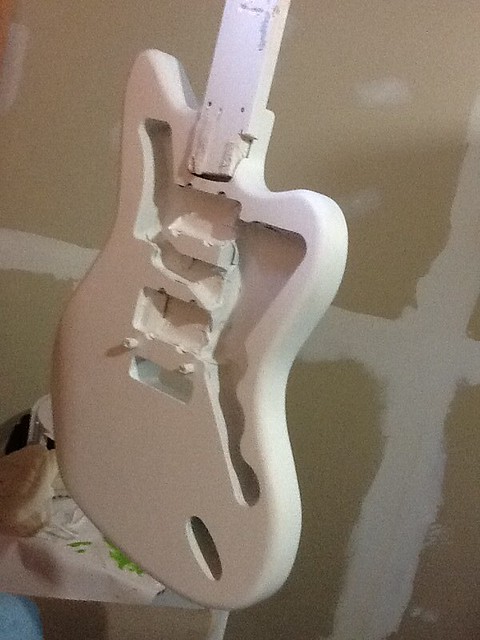 Neon on: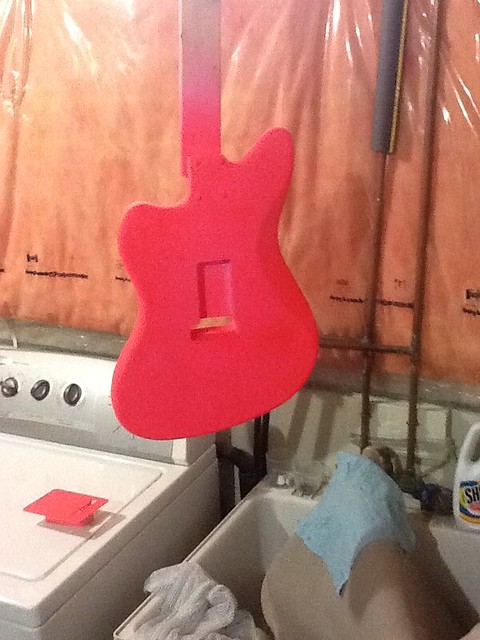 Clear and wiring done:
So, I screwed up and ended up sanding through the clearcoat and colour in one section of the guitar. This required an awful lot of swearing, followed by some careful taping off of almost the whole guitar, then respraying the flourescent paint and re-doing the colour coat. Then I put a couple dings in the paint when putting the bridge on, but I think they're mostly hidden by the pickguard.
From 10 ft it looks pretty good!
It's kinda a weird colour. In dark light it is a very dark pink, but in bright light it's super bright. Hard to capture on camera.
Still need a couple days to tweak the setup just right, but the upper fret access is outstanding compared to my Charvel So Cal. I know it doesn't matter to amplified tone, but acoustically the guitar is really loud . . . about the same volume as my Epi Dot. Guess the light weight roasted swamp ash acts kinda like a semi-hollow. I'll have to wait until I've got some free time to really let her sing at volume.
Wiring is cool. Tone Zone in the bridge, and Evo in the neck. Knobs-wise, there's a master volume, a regular tone pot, and a bass cut pot. The bass cut is pretty sweet to have on a guitar with a Tone Zone, it lets you tighten things up nicely.
Three way selector for the two pickups. Each pickup has a push/pull tone pot to control series/parallel switching. At the upper horn there are two switches. One toggles between telecaster and LP mode (Both pickups split/both pickups full HB). The other switch is a blower, and connects the bridge in humbucking mode directly to the output jack for a bit of a solo boost. Everything is easily accessible while playing, but not in the way while strumming.
Ugh . . . took me an embarrassingly long time to get this done.