As some of you might have noticed,
I am planning a guitar build
and I have asked lots of questions related that (thanks for all the help so far!). When it comes to the Warmoth build part I am very soon ready to order the body and the neck and I will create a separate "Build thread" for that.
However, I have had an
idea for the wiring of the guitar
, and depending on if it is doable or not, I will order a "bunch of holes"
in the Warmoth body. As a disclaimer,
I know nothing about actual wiring
and/or logic of how wiring works,
so please bear with me
! I have created a "logical wiring diagram" that shows how I would like it to work on a
high level
, but it does not show any real wiring (which I would need at some stage).
So right now
I am requesting help from the experts on this forum
to
verify
that this idea for
wiring is possible
, at least
in theory
. It looks very different from the wiring diagrams I have ever seen, but here we go:
The guitar (will be) a
one humbucker (bridge)
guitar, but what makes it a bit different is the
amount of controls
planned for it
3-way switch
1 Volume
1 Tone
1 "Spin-a-split" "Tone"
Using the
3-way switch
(it is my preference, even if push/pull pots and other ways could be possible) I want to
quickly choose between three "sounds
". Here are the
positions
in the switch and the corresponding sounds and components used
"Rhythm/Clean": In this position I would be able to use a Volume knob, a Tone knob, and a "Spin-a-Split" knob
"Solo/Rhythm": In this position there would be only a fixed 500K resistance (or similar) to "tame the tone" a bit
"Solo/Blower Switch": In this position the pickup would not be altered in any way, producing the "full sound"
I´ll try to
explain the idea of the wiring diagram
below. The
basic idea is that whenever the 3-way switch is in a specific positions
, a bunch of
components
(or nothing) would be
included
, otherwise not.
The bridge humbucker (on the left) is connected to the 3-switch to pole 3 (on the left)
That pole 3 is jumpered to poles 2 and 1, which should make the bridge humbucker available in all 3 positions
The commons in the switch are jumpered, and all output from the switch goes from the upper common (C) to the output jack (upper right)
On the right hand side of the switch are the three different "sounds" (see description above), with all related components, except position 3 that has no components.
Out of the components on the right hand side of the switch my assumption (is it wrong) is that they (Volume and Tone) don´t have to be connected to the bridge humbucker, except the "Spin-a-Split" (will that "Spin-a-Split" connection to the humbucker cause a problem?)
Any comments, ideas, suggestions etc greatly appreciated -
thank you
! And please be kind with your answers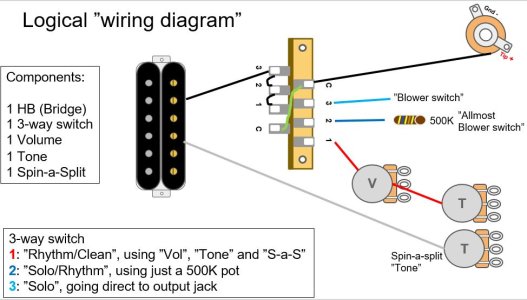 And in case you wonder, yes,
normally
a one-humbucker "EVH-type" of guitar has only 1 volume, and potentially 1 tone control. But my guitar build will be
abnornal
Last edited: