I finished my work for Don Lace last week, so today I got to go down to the factory and chose my goodies.  Here's what I walked out with: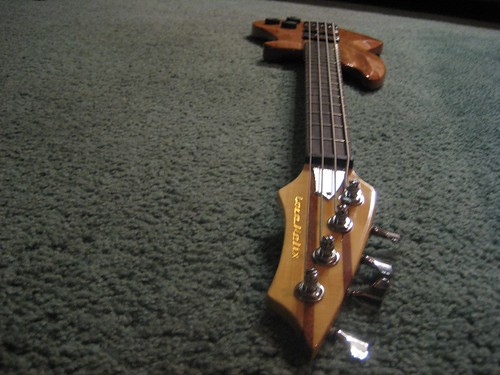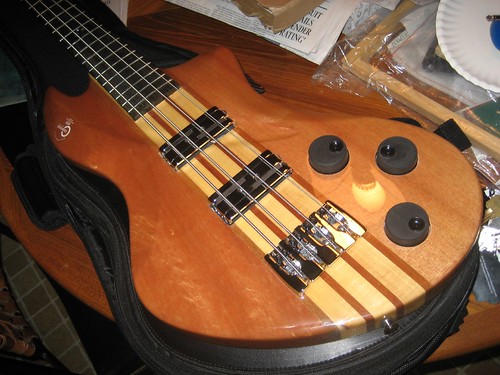 The jack is in the back... not sure why.  I'll ask Don next time I see him.
Alumitones: the pickups from outer space.
The contours on this are a little insane.  The only flat spot on it is the thru neck part.  It kind of reminds me of a Corvette Sting Ray.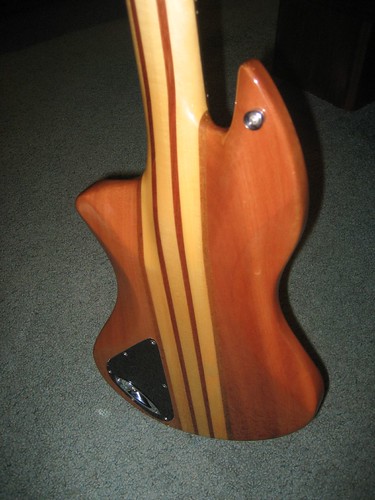 Don pretty much let me loose in the showroom and the factory to pick anything I wanted.  I have been wanting a bass for a long time, so I went with that.  I also played an archtop (I had no idea that they even made archtops) that sounded real nice and this weird Cybercaster with a twisted neck.  It looked a little odd, but it was incredibly comfortable to play.  I also tried out their regular shaped neck Cybercaster, and that thing was pretty cool too, and nice looking with a matte finish rosewood top.
They had the Helix in dark trans blue, red, and black.  I was thinking of getting the blue, but my LP is going to be blue, and I already have red and black guitars, so I thought I'd be different and go with the natural.  Plus they are out of stock in the blue at the moment so I would have had to wait a while. 
I also got some chrome Alumitone humbuckers to try in my LP.  That should be interesting. 
Don said that he and his fiance are thinking up more work for me, so I might be getting some more toys from them in the future.  If I ever build a Strat I think I'll get a set of Sensor Golds for it. 
Anywho, I'm really excited because this is my first bass and it's really cool.  The pickups are super clear and I was able to get a lot of variation in the tone with it.  It sustains for a lonnnnng time too.  It's also pretty light weight, which kind of surprised me. 
I took it to GC and Rockit Music and tried out some amps.  I still need to save up for an amp though, so I just got a little Amplug type of thing so that I can plug in my headphones and practice while I save up and shop around for an amp.  I have to say, it was pretty cool walking into GC with it and having half the store stop what they were doing to come and look at it because it is so different looking.  One guy asked if he could try it and he was obviously an experienced bassist.  He asked me if Don needed more work done.