Hey Everyone,
My first Warmoth build.I hope you like it as much as I do.
It is based on my 1983 Two Knob Strat.
I always loved the wider nut width of the '83s, and no other Strat felt right after growing up playing this neck. (Specs listed below)
I got used to the master volume and master tone controls over the years and find a third knob unnecessary.
When it is not being played, my old '83 has mostly sat on a stand in my bedroom and living room since I bought it in January 1984. It was my only guitar for 32 years. (I have 3 of them now!) Sometimes when the light hit it the right way, it looked like the edges were unpainted wood, and I always wondered what it would look like if they were.
It looks just like this;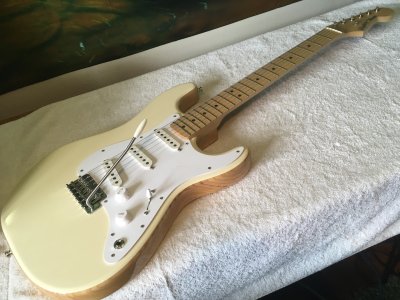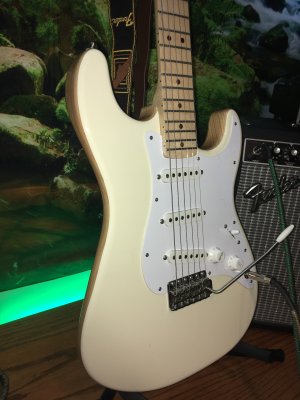 Warmoth Body:
One Piece Ash, with Alder cap
The bridge is the only Fender part on it, it is from a 1983 '57 Fullerton Reissue Strat.
Lollar Blondes,
New pots, switch, and jack,
And the sweet Vintage White face with the beautiful grained clear ash back and sides.
The neck is from Musikraft, with almost the same specs as my original.
One Piece Maple, rosewood dots, skunk stripe and plug,
1 3/4 nut,
12" radius,
C .87-.97 profile (just a little fatter than my original)
Medium Jumbo nickel frets.
Tuners are Kluson vintage style.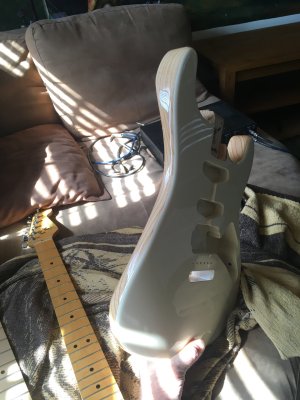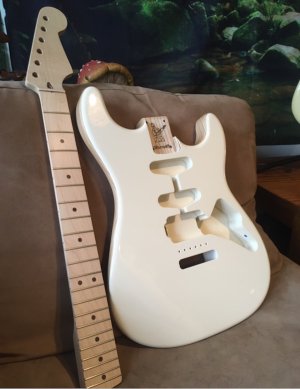 I got the color slightly wrong. No big deal. Maybe the light yellow or cream would have been closer?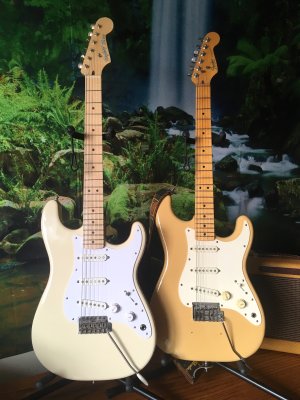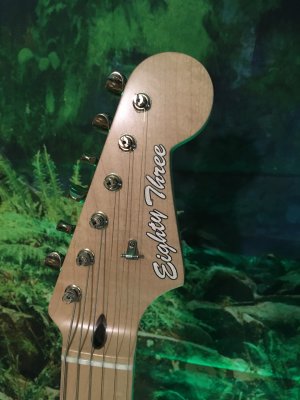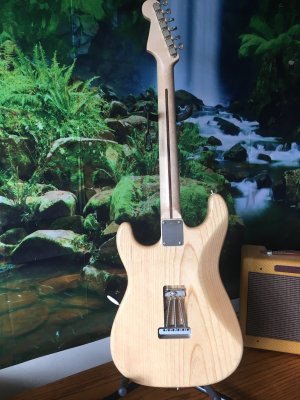 Last edited: