think this was before - probably early summer 2000. I can't find the exact video, but I think it was an unreleased song. It wasn't the one from the Video Capture Device, though might have been the same gig.

Yeah, I imagine that throw is what split the body. I don't know when the black guitar first appeared, but it had to have been shortly before. I recall that was Matt's last show and they didn't play live again until 2000.

That's what I was thinking. I just checked the Bizarre 96 video and there is a part with the neck pickup on 10. Right before El Scorcho. You can hear there's a signifciant difference in the voicing when switching pickups.

Not convinced about the bridge pickup just yet. Seems like a lot more drive is coming from that (he does turn it down slightly before switching to the neck)

I know there's a fairly recent interview where Rivers says how the blue one wasn't the first and was inspired by the one from Jason. He also mentioned how the white Telecaster was initially his, but they traded.
Maybe the El Scorcho/Oh Girl performance from 2000? That's from the second show they did, he uses the seafoam swamp ash strat during Oh Girl but it didn't have any tape or stickers yet.
Couldn't find anything before the Mykel and Carli show but it already had stickers and tape all over it, maybe late spring-early summer 97? They were back in CA for a few days/weeks during that period maybe that's when they got the parts for the black strat.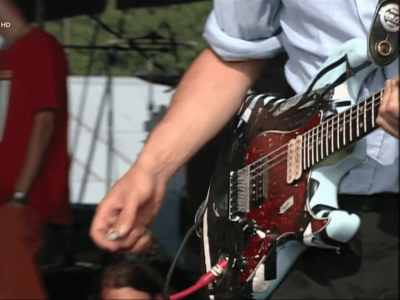 Just watched it, after going from 10 it looks like he goes down to like 3? before he starts the song which is pretty crazy; 8-9 for bridge and 3-4 for neck
Might come down to trial and error.
The premier guitar one? It sounds like he's talking about the red strat. To be fair he's talking about a 30 year old build after having at least 7 of them he might not know which one he's talking about.