All,
I'm new to Warmoth and contemplating my first build. I've owned hundreds of guitars and built with Kiesel and others before. Just have a few questions and I'm hoping you all can look over my build and help me identify potential blind spots or things to consider.
Based on what I am seeing I can save about $300 by selecting the in-stock body #1 vs. my custom body #2. The only major difference is that I'll have to go with a swamp ash body instead of mahogany.
Questions:
"Dye", it seems like this color has a slight burst - i.e. it's darker around the edges correct? Is it possible to get a solid trans black top without the 1/2" black burst on the edges? I'd like the flame to go all the way up to the natural biding.
In Body #1 below is that water on both images? Both the "dry" and "wet" images show the water, just wanting to make sure this body doesn't isn't actually a lighter color in the middle.
I am considering paying the extra $200 to ensure I get a minimum of a 3A roasted flame maple neck. I cannot currently choose my matching flame maple board, does Warmoth do a pretty good job of matching this up? Thoughts?
Modern vs. Modern Tilt Back w/ Reverse Strat Headstock - I've never seen a fender headstock with a tiltback design. Anyone have a link?
If you do a tiltback design do they add a scarfjoint?
Would you opt. for rear bolts on the Floyd nut?
Black (Burst-over), Black Burst, Black Burst (Burst-over) -- what is the difference in these 3? See the pic below.
Gotoh vs. Schaller (I vote Gotoh but want your thoughts)
720 mod (I vote no but want your thoughts)
Any other tips or considerations are appreciated.
Thanks,
Jeff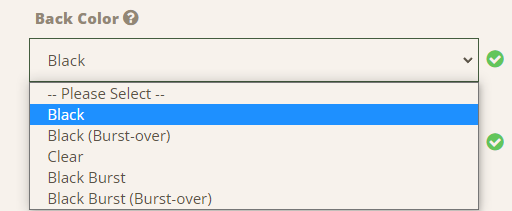 Neck:
Construction Modern
Shaft Wood Roasted Flame Maple
Fretboard Wood Roasted Flame Maple
Unique Choice No, Warmoth can choose for me.
Nut Width1-11/16" (43mm) - Modern Medium
Right / Left Handed - Right-Handed Reverse
Neck Back Profile - Standard Thin
Fretboard Radius 10" - 16" Compound
Number of Frets 24 Fret Extension
Fret Size & Material SS6100 - Jumbo (Stainless)
Tuner Hole Size Gotoh/Grover (13/32" - 11/32")
Inlay Shape Premium Dots
Inlay Material Black Mother Of Pearl
Side Dots Black Side Dots
String Nut R3 Floyd Prep w/ Mounting Holes
Mounting Holes Standard 4-Bolt
Neck Heel Shape Strat® Shape
Finish Clear Satin Nitro (Maple/Maple)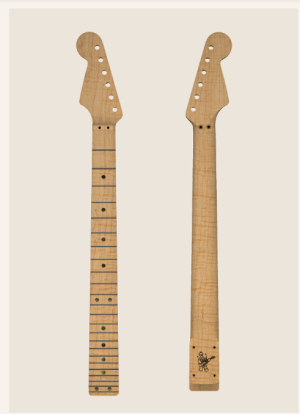 Body Option #1:
Construction Chambered Core
Wood Swamp Ash
Lam Top Wood Flame Maple
Lam Top Upgrades Flame Maple - High Grade
Right / Left Handed Right-Handed
Control Cavity Rear Rout
Neck Pickup Rout None
Middle Pickup Rout None
Bridge Pickup Rout Humbucker (Wood Mount)
Controls Tone 2
Jack Rout 7/8" (22mm) Side Jack Hole
Bridge Rout Type Tremolo Bridge Rout
Original Floyd Rose Recessed
Would you like Warmoth to install the bridge studs? No
Mounting Holes Standard 4-Bolt
Neck Pocket Shape Strat®
Body Contours Forearm Contour, Tummy Cut, Custom Contoured
Heel Binding & Edge Decorations - Natural Masked Edges
Paint Category Dye Top Color Black Dye Back
Color Black Satin or Gloss - Gloss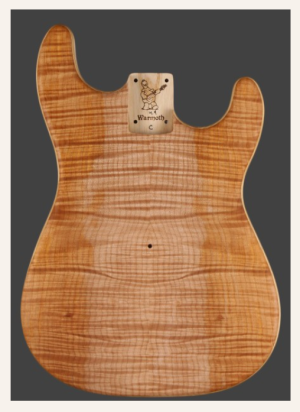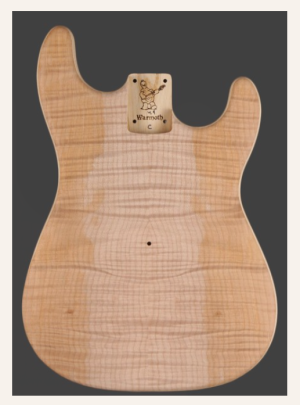 Body Option #2:
Construction Solid Core
Wood Mahogany (1-piece)
Lam Top Wood Flame Maple
Unique Choice Yes, show me some Lam Lops (additional cost).
Unique Choice Lam TopsGLT-1440
Right / Left Handed
Right-Handed Control Cavity
Rear Rout
Neck Pickup Rout None
Middle Pickup Rout None
Bridge Pickup Rout Humbucker (Wood Mount)
Controls Tone 2
Jack Rout 7/8" (22mm) Side Jack Hole
Bridge Rout Type Tremolo Bridge Rout
Original Floyd Rose Recessed
Would you like Warmoth to install the bridge studs? No
Mounting Holes Standard 4-Bolt
Neck Pocket Shape Strat®
Body Contours Forearm Contour, Tummy Cut, Custom Contoured Heel
Binding & Edge Decorations - Natural Masked Edges
Battery Box Single Battery Box
Paint Category Dye
Top Color Black Dye
Back Color Black
Gloss