When it rains it pours!  I just got my blackface Champ a little over a week ago, then I saw an ad on Craigs list for a vintage Gibson amp--chassis and footswitch only. 
Its just the chassis, but we fired it up by attaching it to a speaker cab, and it sounded great.  Its definitely still a project.  I guess I can build (or have built for me) either a 4 ohm cabinet, or a make it back into a combo amp.  I guess when this amp originally came out it had both an 8 inch and 12 inch speaker wired in parallel.
I have trouble attaching pics for some reason, so I'll try both pics and links: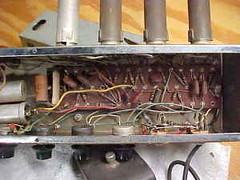 http://farm3.static.flickr.com/2775/4538735356_353eb34d95_m.jpg
http://farm5.static.flickr.com/4060/4538735306_40f8044702_m.jpg
http://farm3.static.flickr.com/2773/4538735250_169eed0c36_m.jpg
http://farm3.static.flickr.com/2696/4538104521_40e58d0a21_m.jpg
Like Tonar said, vintage amps can be an addiction.  I think I'm hooked.  Just wish I had more knowledge so I could fix them myself.